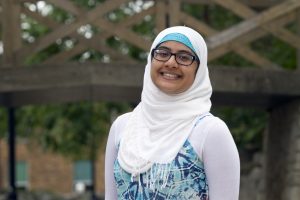 It still hasn't sunk in that I have graduated. It still hasn't sunk in that I won't be coming back to Gatton this fall. Or that my friends won't be down the hall from me. Or that the whole building will share a common culture, a common identity.
In the weeks leading up to graduation, I refused to think about what my life would be like after I graduated. In fact, I refused to say the word "graduation." I was in denial that my Gatton experience would be ending. Now, you may be wondering, many people graduate high school, get over yourself Saadia. However, I didn't just graduate from high school, I ended a significant two years of my life- two years that I will never forget.
I moved in junior year expecting to live in a building full of nerds with no social graces and in a high-intensity environment. Looking back upon that moment, I laugh. That's what everyone expects from Gatton, isn't it? I quickly learned that Gatton is nothing like that. Gatton is a family. We have our own traditions (singing "Piano Man" last at every dance), our own culture (Ultimate Frisbee, anytime, anywhere), our own slang (Gattops, Accountabillabuddy), and our own problems (CPS). Just like a real family, we help each other get through our struggles. We help each other debug our codes, help each other pass Pesterfield or Minter's class, and help each other navigate through life. I met some amazing people who helped me do just that.
Despite only knowing them for two years, I have made some incredibly strong bonds from friendship, bonds that I won't ever break. I cherish every moment I spent with them, from hanging out in the common area, decorating the wings, walking around campus at 10:15, to studying abroad in England.
I've had to give up quite a bit to come to Gatton- friends, family time, driving, etc. Was it worth it? I've dwelled on this question for quite a bit and I believe I have found my answer- yes, it was definitely worth it. Not only was it worth it for the two years of college credit, the friends, research opportunities, and travel abroad opportunities, but it was especially worth it for how much I grew and learned over the past two years.
Coming from a high school where I was known as the "smart kid," I had no other identity. And during my freshmen and sophomore years I was okay with that. It wasn't until I came to Gatton, where everyone was the "smart kid," that I realized my persona had a lot more to it than just intelligence. Soon, people started describing me as "shade-thrower" and "opinionated."
I also realized what it truly meant to struggle and work hard. Quite frankly, my home high school barely challenged me. Even the AP classes were easy to me and did not require much effort on my part. Gatton, however, was a whole other ballgame. I mentioned earlier how Gatton wasn't a high-intensity environment. It's true that the building isn't dead quiet with people furiously working on their laptops, but Gatton can definitely be stressful. One hundred and twenty teens taking college courses is no easy task. I realized very early on in the first semester that my old habits wouldn't cut it. Over the past two years, I've worked harder than I ever have and have not maintained the 4.0 GPA that I used to be so prideful of. However, for every grade I received, I felt like I earned it.
These past two years bring with them a flood of emotions. On one hand I am happy to be done with high school, but on the other hand, I am sad to be leaving Gatton and its community. Even though my time at Gatton is over, my legacy is not. I will proudly say, for the rest of my life, that I went to The Gatton Academy for high school. I also know that if I ever wish to visit, Gatton will welcome me with open arms.