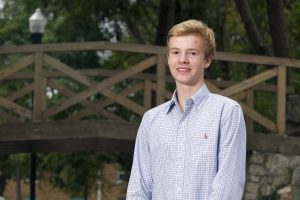 By: Tyler Smith
I am incredibly thankful to the Gatton Academy for giving me this opportunity to study abroad. Although I have only been in London for a few days, a mere fraction of the full trip, I can already tell that this trip will be a great experience.
One of the best parts about this trip is the mixture of class and travel. We are given the opportunity to go out into the world and actually SEE the monuments and landmarks we are learning about, instead of simply reading about them. This is a much better way to learn the culture and history of classic literature as we can fully grasp how monumental certain landmarks are.
A great example of this is how we traveled to Jane Austen's house. There we actually got to see where and how she lived, giving us a better understanding of what went into her writing process and why she actually wrote her novels more than if we had simply learned about it in the traditional classroom setting.
In my free time, I have largely ventured across London, seeing many of the great monuments, such as Big Ben, the British Museum, and the National Gallery. My favorite landmark that I have seen on this trip so would have to be the London Eye on the edge of the Thames River. It is not the London Eye in itself that was so impressive, but rather the scenery that surrounded it. The area is booming both with people and culture, and it is also situated between two foot bridges that when crossed allow you to take in an amazing, breath-taking view of London with all of its landmarks artfully protruding from the city's skyline. It is by far my most favorite view I have seen on this trip, and its true beauty is not comparable to any photo.
Again, I would like to thank the Gatton Academy for giving me this opportunity as London has been an amazing place to see, and this trip has actually made me excited to study literature. Even only being nine days into the trip I can say that this has been one of the most influential events on my understanding of literature and writing as a whole.