Can you describe your experience at the Gatton Academy?
That is kind of difficult to put into words because there are so many things about Gatton that are almost indescribable. I was challenged in ways that I had never been before. I was able to do research and have an early look at what college might be like. However, I think most of all, it provided such an incredible and open community, one necessary for the thriving of gifted students from across the state. We were able to look at each other's accomplishments and struggles and see that we were all in this together. We were there for each other, during the good and the bad. These two years were created from the group effort of over 120 students and staff members. I made so many great friends, many of whom I miss so much. Given the opportunity, I would give them a place to stay here in Philadelphia in a heartbeat. If I had to go back, I would definitely do it again.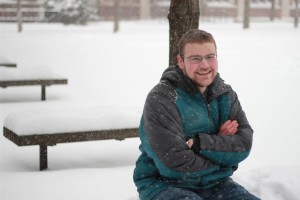 How have your experiences at the Gatton Academy helped you in your adult life?
Although I can say that my experiences here at the University of Pennsylvania have been much different and more challenging than at Gatton, I definitely can say that it gave me a good foundation for higher education. Gatton also gave me many opportunities to show how involved I was in and out of the classroom. It also was an opportunity to live and work with a more diverse population of students. Everyone from Gatton came from a different background, and Gatton provided us with a safe place to express our ideas and opinions. Also, I think that the Gatton Academy allowed me to be more fully responsible for myself; no longer were my parents telling me to clean my room or wake up in the morning. This definitely prepared me for the all the self-responsibility I now have in college.
Since the Academy what have you been up to?
I have been studying at the University of Pennsylvania, trying to balance school with my work study and extracurricular organizations. I hope to get involved in ecology research in next fall. Before classes started, I took part in an amazing pre-orientation program called PennGreen where I learned a lot about sustainability practices and environmental health, while also making new friends in the process. With clubs and extracurricular activities, I am involved in the Freshmen Fuerza, a Latino cultural group for freshmen, Penn Environmental Group, and some of the LGBT groups on campus.
What do you aspire to achieve in the next ten years?
I hope to go to grad school for biology and to become a research biologist/ecologist. I want the work that I do to have a positive impact on the conservation of animals, ecosystems, and the environment as a whole. On the side, I hope to have made at least a few short films along the way to show my love of film and filmmaking. I have no specific plan in mind, but of course there is still plenty of time for that.
What was your favorite memory from your time at the Gatton Academy?
There are so many great memories from Gatton, it is so difficult to pick just one. I definitely enjoyed the 4+ hour one-on-ones with my RC talking about everything from religion and philosophy to "Why does Avril Lavigne sing Radiohead at the top of her lungs?" There were definitely the beautiful days, sitting out on the Colonnade steps, and eating "Pizza Tacos" (i.e. Pizza from DaVinci's + 2 Tacos from Izzi's made into a delicious sandwich). However, some of my favorite memories were formed during the week before classes started my senior year. Being able to spend time with the other community developers and Avatars was such a wonderful experience without the stress from classes.
We would like to thank Wayne for taking time out of his busy schedule to be interviewed.