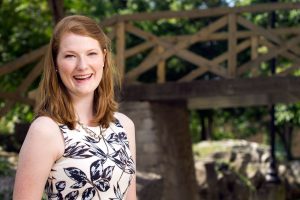 Hey everyone! My name is Callie Freeman, and I'm from the great city of Louisville. When I'm not here at Gatton, you can find me at a congressional debate competition, orchestra concert (I play the harp!), outside with my Australian Shepherd Missy, or someplace where I can read a Jane Austen novel (the best author EVER, right?). Otherwise, it's pretty difficult to think of times when I'm not here Gatton, and I wouldn't have it any other way. From academics to research to study abroad, Gatton has given me the opportunities – and friends – of a lifetime.
One of the things that makes Gatton so different from traditional high school is all of the opportunities we have to do research. My very first semester, I participated in the Genome Discovery and Exploration Program, where I isolated and genetically analyzed my own unique bacteriophage – Pemberley (it takes a Jane Austen fan to get this one). Later, I was awarded a Research Internship Grant to study the mitoNEET protein and its application in diabetes treatment at the University of Louisville over the summer.
Gatton also provides us with the opportunity to explore outside of the STEM world. This summer, I spent three weeks learning all things British literature in England. Filled with books, tea, history, Harry Potter, castles, red phone booths, Shakespeare, and sheep, the trip could not have been any better. I definitely made memories that will last a lifetime.
As incredible as all the academic, research, and travel opportunities that Gatton offers are, some of my favorite memories here are the ones made staying up late with friends, chilling on weekends, and laughing with my roommate. It is no exaggeration when I say that I truly love every part of Gatton. It really is my second home, and I can't wait for the new Juniors to experience it.