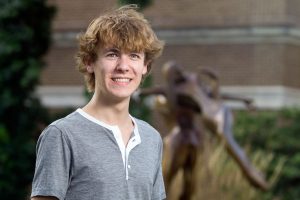 My name is Grayson Fuller. I am a senior from Woodford County. Before my time at the Academy, I was an active member of Key Club, Academic Team, some after school tutoring programs, and a Tenor I in my school's a capella group. After hearing about it in the eighth grade, I knew Gatton was where I wanted to go. I was already passionate about biology, chemistry, and mathematics, so the STEM aspects of the school appealed to me. Also, having never felt that classes moved quickly enough, I thought that going to Gatton would give me the chance I needed to accelerate in my studies.
When I arrived, Gatton was everything I hoped for and more. Classes were fast paced and rigorous. The people were awesome. We had access to some of the coolest academic opportunities: research, study abroad, eligibility for nationally competitive undergraduate scholarships. Study abroad is the opportunity the Academy provides that I love to rave about. I have traveled to both Costa Rica and England with my peers. The two trips, while vastly different from one another, were some of the most enjoyable weeks of my life. I gained A LOT of independence from things like attempting to purchase fruit at a grocery store where the owner speaks no English and navigating the London tube system on my own (well, with a few other peers with me). What I gained from study abroad was invaluable to my development both as a student and as a person.
Reflecting upon my experiences from junior year, my experiences were remarkable! The friends I made here helped remove any doubts or fears I had when coming into the Academy. My seniors, who have since graduated, gave me the wisdom and know-how I needed to succeed and enjoy my Academy experience. As we usher in the new junior class, I hope to serve as the guide I needed when I was in their shoes.