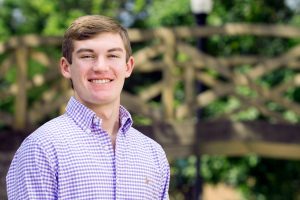 Hey guys! My name is John Nickell and I am extremely excited to serve as an Avatar this year for The Gatton Academy. Although I have been lucky enough to call Bowling Green my home for the past year, the hills and hollers of Eastern Kentucky still hold my heart. I grew up in Morehead, Kentucky. A town nestled in the foothills of Appalachia.
I must confess before Gatton, the majority of the time you could find me on the baseball diamond where I played center field for Rowan County Senior High School. During the offseason though, I would put baseball aside and focus on other activities such as Academic Team, Speech and Debate, and Student Y.
I first heard of The Gatton Academy while attending a summer camp put on by The Center for Gifted Studies here at WKU. After sitting through an information session on the academy, I was still unsure. I returned to the dorm (The current Gatton Academy dorm) after the session and that night, my roommate and I stayed up late into the night chewing on one question: Do I really want to spend my last two years of high school at a place I barely know? Finally, we both found enough courage to promise each other that we would apply. Four years later, we are both proud to call that same dorm home.
Since arriving at Gatton, I have had the privilege of studying abroad in Greece for two weeks. From the ancient ruins of Olympia and Athens to the snow covered mountaintops of Delphi, we truly took in all the aspects of Greek culture. This winter I hope to escape the frigid Bluegrass State for two weeks to study leather back sea turtles and biological diversity in the Costa Rican rainforest.
Although study abroad has truly been an extraordinary, eye-opening experience, I have enjoyed the research opportunities here at Gatton the most. For my first two semesters at Gatton, I worked alongside two WKU economics professors where we conducted a research project on the effect financial literacy has on preventative healthcare usage. This project gave me the opportunity to travel to Charleston, South Carolina and present my research at The Academy of Economics and Finance Annual Conference. After such a great first experience with academic research, I could not wait to get started on a new project. For my next project though, I diverged from the field of economics to study the stars. With Dr. Thomas Pannuti at the Morehead State Space Science Center, I analyzed the peculiar Galactic Supernova Remnant W63 using current and archival data from X-ray emitting plasma.
Outside of the academics here at the academy, I am president of the Stock Market Club where we participate in local and global investment competitions. I am also an active member of FBLA, movie club, and Student Y here at Gatton. On the athletic side, play on the Gatton Academy's intramural basketball and flag football team.
Once again, I sincerely cannot wait to see what this year holds for myself as well as my Gatton family.