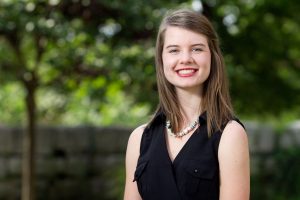 I am Morganne, a current senior at the Gatton Academy, an astronomy lover, a French horn player, and a (terrible) croquet player. I'm from Boone County in northern Kentucky, or Burlington to be more specific. I first heard about Gatton when it opened, and ever since then attending this school became my #1 goal. I'm really glad I made that decision.
While I usually spend most my free time sleeping, I do participate in a number of clubs and interest groups here. I'm the head of the Space Club, and a member of the Speech and Debate team, Gay-Straight Alliance, Drama Club, and Sierpinski's Performing Arts Club. I also volunteer at the Hardin Planetarium on campus, and research with a scientist at the Space Telescope Science Institute.
Research has been one of my favorite activities here at Gatton. I've been working with the same professor for about a year now, and I'm constantly learning new things. Ever since I was little, I wanted to do astronomy-related research, and now I get to live out that dream. I also presented my research over Cepheids at the WKU research conference, and this year I hope to go to the American Astronomical Society convention and present there.
Studying abroad is another one of my favorite memories of my time at Gatton. This summer I went on the Harlaxton trip where I lived in England and learned English for three weeks. I visited Bath, Stonehenge, Stratford-Upon-Avon, and Oxford, took a tour of the Harry Potter Studios, explored London, and had so many amazing experiences there that if I tried to list them all you'd get tired of scrolling through this blog post. Living in a giant manor filled with secret passages for two weeks probably takes the cake though.
All in all, Gatton has been everything I ever hoped it would be. I've made so many cherished memories in only a year, and I can't wait to see what this next year brings.