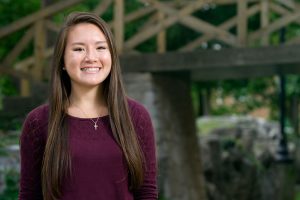 The Gatton Academy is home to students from all over Kentucky and with different backgrounds. My home is in Bardstown, a small town in central Kentucky. However, I had only moved there when I was in seventh grade, after my dad passed away. Going to a new school was intimidating. I faced uncertainty, but I made some of the best friends I could have asked for, played volleyball, joined clubs, and got involved. I began to feel at home. I am confident to say that I love the people in my hometown and the sense of home that comes along with Bardstown, Kentucky.
At this point in my life, I felt like I hadn't asked for a change as drastic as moving miles away, going to a new school, and learning to love a new community. Sometimes I felt like I wasn't in control of my life. When I was a sophomore in high school, however, I wanted to finally be the one to have responsibility and influence on the course of my future. To do so, I decided to face another kind of uncertainty. I began my application to The Gatton Academy, knowing that I had nothing to lose and infinite possibilities to gain. Ever since middle school, I had taken advanced classes, studied hard, and genuinely enjoyed learning. Despite being nervous, I felt like I had a chance of getting in to the Academy. I was willing and ready to move miles away, to go to a new school, and learn to love the Gatton community. Here I am today, two years later, in my senior at Gatton and retelling the story of it all.
I am appreciative of who I was before Gatton and even more so of the person I am today because of Gatton. A few short years ago, I was surrounded by my best friends in Bardstown, playing volleyball, and competing in club activities. Sometimes I miss how things used to be before I came to Gatton, which is natural. It's normal to miss home. However, I feel almost as though I have made more than a fair trade. As I write this today, I am surrounded by a table full of other Gatton students, a table full of studious individuals who are busy at work, a table full of my best friends. I just finished my second day of fall semester classes at Western Kentucky University. It is early in the semester, and I am in the midst of signing up for clubs, decorating my dorm room, and applying for colleges. Many doors are open for my future because of Gatton in the same way that doors have been opened for me while at Gatton to be able to take college courses, to participate in undergraduate research, and to become immersed in math and science.
I want to appreciate my final year at Gatton to the fullest in the midst of the chaos of senior year. Before we graduate and move on to other wonderful things, we still have a year left with our best friends, a year left to explore math and science, and a year left in this community that we have all come to love.