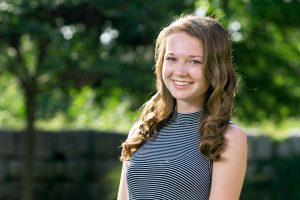 By: Amanda Zahn
Waking up in the small town of Kalambaka, despite it being 6:30 in the morning, was absolutely amazing. All it took was opening up the curtains and gazing upon the breathtaking rocks of the Meteora to get me out of my morning grogginess!
After breakfast at our hotel and reloading the bus, we set off on a trip through the mountains of northern Greece. This also proved to be a breathtaking sight, as the mountains were snowcapped and absolutely massive. A real sight! All eyes were glued to the passing landscape for the majority of the ride as we all listened to our tour guide, Irene, tell us tales and stories from both Greek mythology and history.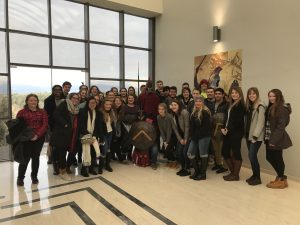 Our first stop of the day was at Thermopylae, the site of one of the major battles between the Greeks and the Persians. We got to see where the fight actually occurred, as well as visit the information center nearby to watch a video explaining the battle. We learned about the armor and weaponry used by both sides, and observed the maneuvers utilized during the battle. After spending some time in the visitor center, we visited the monuments dedicated to the Spartans and the Thespians who refused to retreat despite their impending certain death, and loaded back onto the bus to continue our journey south towards Delphi.
Right before arriving in Delphi, we made a surprise stop at the ski town of Arachova. Our bus driver (Zafiris) did a phenomenal job of maneuvering through the extremely narrow main street of the small mountainside town, and we then ventured off for an hour in small groups to explore the town and local shops. Although it was quite cold, everyone enjoyed getting off the bus for a little and getting to see the mountainous landscape from outside the bus.
Finally, we arrived in Delphi at our new hotel, unloaded the bus, and walked as a group to dinner. After our meal, small groups split off once again to explore, do a little bit of shopping, or play cards in the hotel lobby. Now, exhausted from such a busy day, we are all off to bed to rest up for another day of adventure!