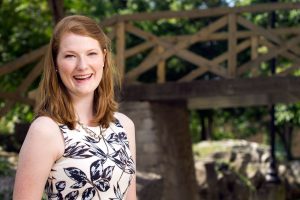 By: Callie Freeman
One thing that makes our Harlaxton experience truly one-of-a-kind is getting to visit the very places where authors lived, breathed, and wrote the works we're studying. Our professor Dr. Rutledge says it best – "we write about what we know." The sites we see on our every-other-day field trips were inspiration for some of the world's greatest literary minds. And this idea can't be more prevalent in Emily Brontë's Wuthering Heights. Thus, in preparation for our field trip to Haworth tomorrow, Dr. Rutledge began the morning by explaining how Emily Brontë's childhood on the moors of Haworth shaped her literary career and inspired the iconic setting of her only novel Wuthering Heights. After a lecture on the ghosts, undying love, moorland and passion that fill the pages of Wuthering Heights, we enjoyed a not-so-British lunch (but friendly favorite) – pizza!
Dollar Store, Dollar General, and Dollar Tree fans rejoice! Because our next adventure was a trip into Grantham to visit the bargain hunter's paradise – Poundland. After purchasing a few British classics (i.e. Kinder eggs and Bueno candy), my friends and I browsed some thrift stores and stopped at a café for a quick snack before heading back to the manor. Right about the time we arrived back, we noticed the lighting outside was perfect for photography. We explored the extensive immaculate gardens and grounds of Harlaxton Manor, snapping photos of the natural beauty and architectural intricacies that abound here. Needless to say, we took a lot of photos!
By the end of our shopping and manor house meanderings, we were all more than ready for dinner and a showing of a Masterpiece Classics Wuthering Heights adaptation. Seeing a visual representation of the characters we had all known so long on paper made the book come to life. But I'm sure this visualization will be nothing compared to actually visiting the very moorlands where the novel was set (which we will do tomorrow!). Each day really does keep getting better and better. Stay tuned, everyone!