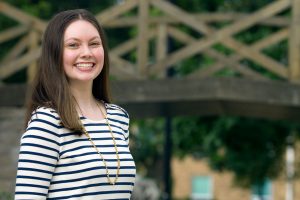 By: Emily Guernsey
After our beautiful, albeit exhausting, romp on the moors yesterday, we were given the once-in-a-lifetime (er, trip) opportunity to sleep in. Rather than class beginning at 9 am per usual, it started at 1, giving us a couple of much needed hours to sleep and study this morning.
After a classic British meal of fish and chips, we headed to class in the gorgeous Long Gallery. We began class with a quiz over A Midsummer Night's Dream, along with various works by John Keats, Lord Byron, and William Wordsworth. Following the quiz, a much anticipated event occurred: the return of our first essays. We all eagerly reviewed Professor Rutledge's feedback as he went over common mistakes. This information will certainly come in handy as we finalize our essays before tomorrow night's due date! Next, we engaged in a discussion of A Midsummer Night's Dream.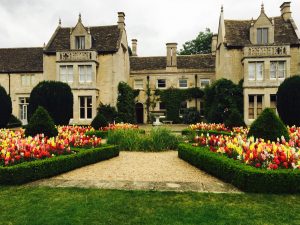 We appreciated the complexities of the plot, leaving us well prepared to enjoy the production at Tolethrope Hall later in the day. We ended the class by studying Lord Byron's biography, as we will be visiting his home, Newstead Abbey, tomorrow. Then, we all rushed off to prepare for our imminent departure.
We loaded the coach and headed off to Morrison's (a British grocery store) to pick up picnic supplies. Upon arrival, we scattered around the market in search of our delicacies of choice. Purchases ranged from fried chicken, to chocolate milk, to copious amounts of dessert. We then hopped back on the coach and completed our half-hour journey to Tolethrope Hall.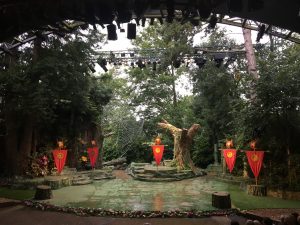 We grabbed picnic blankets and settled across the idyllic gardens of the Hall for our picnic. Most of us were able to finish our delicious meals before the light rain showers began. After a leisurely hour or two in the gardens, we headed into the amphitheater. We settled into our (fortunately covered) seats, stunned by the gorgeous set (seen here) and eagerly awaited the start of the show. It was very exciting to see the work we had studied in class, from the fantastical fairy kingdom to the Rustic's hilarious production, come to life. The showed ended around 10:45, and we headed back to Harlaxton to tuck in for the night.