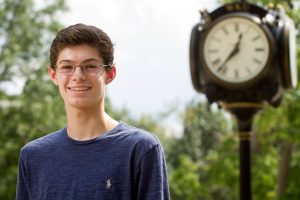 Hey peeps! My name is Benjamin Kash, and I am from here in the good ole Warren County. Before Gatton, I attended Greenwood High School in BG where I played soccer and tennis, but from my first day of high school I knew Gatton was the place for me. My passion for STEM has only grown while attending the Academy. Watching our juniors move-in and experience Gatton life for the first time has brought back some amazing memories of my move-in last year, and I am excited to see what this year holds.
During my junior year, I have participated in two different research projects, one with the physics department and one with the chemistry department. My chemistry research project with Dr. Zhang extended into the summer under a RIG (Research Internship Grant) I was awarded and now is extending into the upcoming semester. I have been lucky enough to have studied abroad in Costa Rica and England. Outside of academia, I love to continue my lucrative sports career on South Lawn with intramural ultimate frisbee and soccer. I am involved in the Beta Club, the Science Bowl team, and hopefully a Big Brothers Big Sisters partnership program starting up this year.
Looking back at my junior year excites me for what awaits the incoming class. And with rest of the seniors moving in, I am anxious and pumped to see what this year holds for us all.