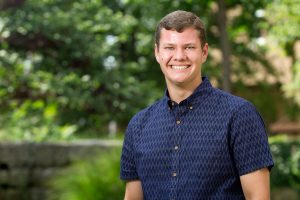 Hey there everybody! I'm Skyler Hornback, and I'm a senior here at The Gatton Academy. If I had only one word to describe myself, I'd have to say that I'm pretty country. Though my address says Sonora and my phone number suggests Magnolia, I'm actually from the tiny Oak Hill community in the southwestern corner of LaRue County in the central part of the state. I'm a true born-and-raised Kentuckian, having had the privilege of growing up on the same farm as my grandfather's grandfather. I feel like I know just about everybody in the Sonora/Hodgenville area, and if I don't know someone, I can just about guarantee I know some of their kinfolk! Needless to say, moving to Bowling Green, where there are more students on campus than in my entire county, has been quite the adjustment for me!
Before coming to Gatton, I was heavily involved at LaRue County High School. I was in Beta Club, Y-Club, academic team, class committees, and Teen Court. I loved my first two years of high school at LaRue County, and making the decision to leave home was a tough one for myself and my family. Fortunately, since coming to Gatton, I have been able to continue most of those activities, as well as become involved in new ones, such as Stock Market Club and FBLA. I have also had the amazing opportunities to participate in chemistry research with Dr. Edwin Stevens and travel abroad to Greece for my first trip out of the country! These new experiences that Gatton has afforded me are truly unique, and I am very grateful that I have been able to take advantage of them as a high school student.
This coming year, I am looking forward to continuing my research with Dr. Stevens, and hopefully, I will be able to travel with the Academy again this winter to Italy. Looking back on the past year, and looking towards the year to come, I am really happy with my decision to come to Gatton. I have been able to stay in-touch with my home community, while also becoming involved in a new one. I'm still the same country-music-listening, story-telling Skyler I was when I came here, just with more stories to tell!